ANTIGUA


To see all the models and prices, and to order, click on: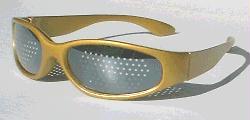 Best for kids and for adults with small to average head size.
Photographed with light behind the lenses to show the hole pattern.
As in all the modern models, the holes are not seen by others when worn.
Click on either image to go directly to the order page.
| | |
| --- | --- |
| Dimensions (in.) | 5.2" wide, 6" long |
| Dimensions (mm.) | 132 mm. x 152 mm. |
| Hole size | 1.2 mm. |
| Space between holes | 2 mm. |
| Lens | Mirror-coated Acrylic |
| Weight | 1 ounce (29 gr.) |
| Frame color | Gold |
| Frame style | Wraparound "Grip-type" |
| Frame material | Nylon |